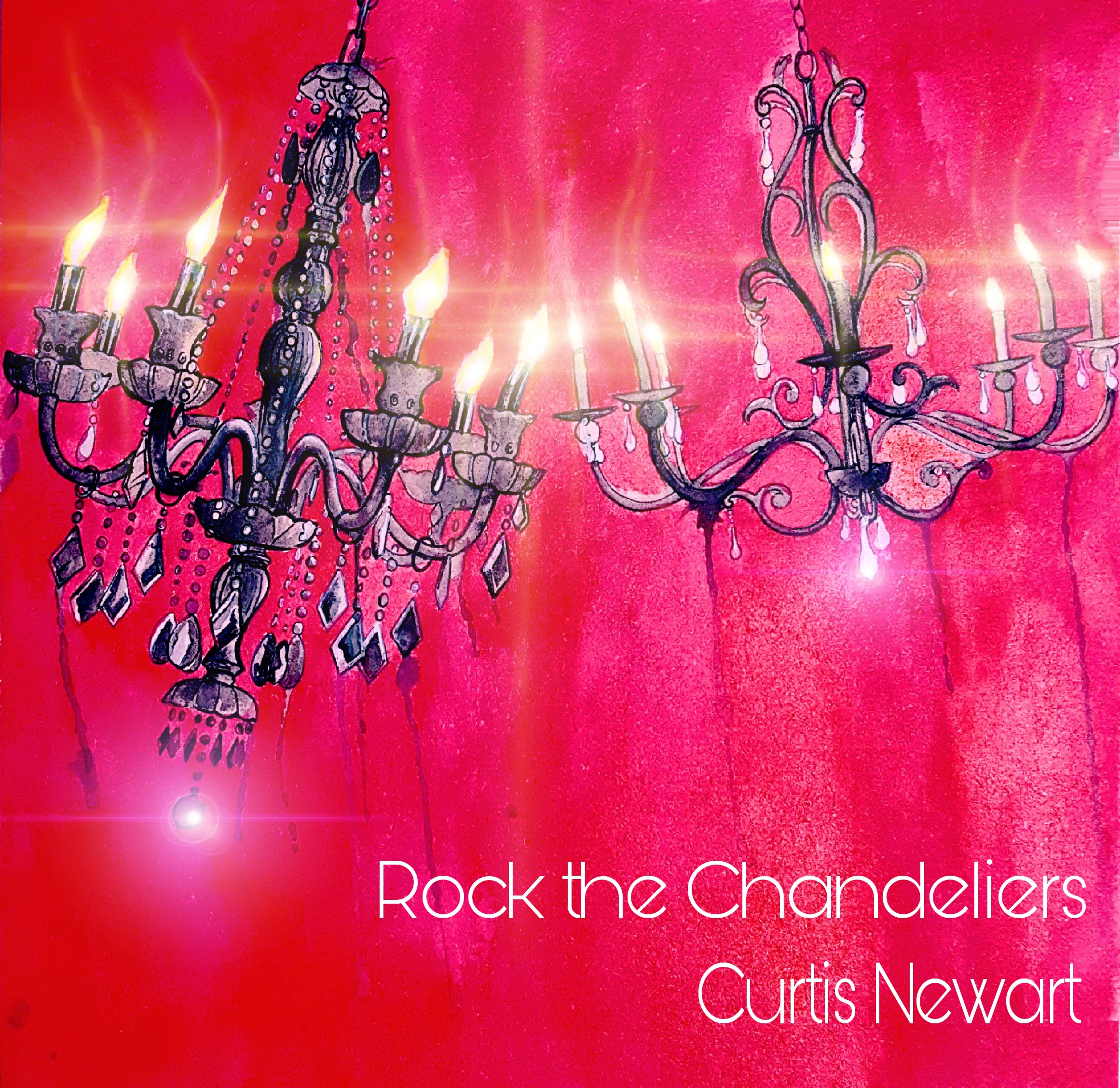 Newart's new album, Rock the Chandeliers, is now available worldwide from Immaculate Records. With 8 original songs, plus a re-make of his popular song 'Perverse', the LP also features a cover song of REM's 'Man on the Moon'.
Track List:
1. Rock the Chandeliers
2. Confetti and Beachballs
3. Down the Garden Path
4. Perverse (2018)
5. Superhuman
6. Lost in Light
7. Fork in the Outlet
8. Thru the Keyhole
9. Man on the Moon
10. Trippin' on the High Horse
Executive producer: Curtis Newart. Producer/Engineer: Jacob Wing at Ill Eagle Studio in Florence, Montana. Producer/Engineer: Robert Newart at Immaculate Records in Superior, Montana.
Original cover art: Justin Lewis at Dermagraphink in North Hollywood, California. Additional effects: Robert Newart.
Newart released his first album Exploits in a Modern World in July, 2006, on Immaculate Records, the record label he founded in Vancouver, Canada.
It first hit shelves at Toronto's iconic Sam the Record Man, then HMV before becoming available through stores worldwide. It entered a top 40 chart in Montreal, and Spanish retailer Price Minister reported ratings of the album at 4.5 out of 5 stars.
His song 'Dead Religion' ranked #36 on Amazon UK's Religion Chart and Newart became a featured artist on Star Radio in November, 2007.
His follow-up EP Exploits Remixed featured remixes of 'Ridicule', 'I Would', 'Superficial', and 'I Don't Care'.
The music video for 'Ridicule' was filmed in New York in December, 2007, and the video for 'I Would' was filmed shortly after in Mexico (the song peaked at #4 in Vancouver, BC on March 13, 2009*).
Both song titles were added to crossword puzzle dictionaries, and the song 'Real Life' was recently added to the trivia website Song Pop.
Newart released the single 'Perverse' in 2014, which he performed live, plus songs from the album Exploits Remixed at the August 2015 Street Party in New Westminster, with special guests Stefan Arngrim and Boomer Ng Glory, on the same card as Bif Naked.
Newart ranked #1 on Vancouver's Pop Chart on January 6, 2016, with 'Perverse', which spent over 30 consecutive weeks in Vancouver's Top 10 and charted at #4 in Canada*.
*ReverbNation.com (est. 30 million unique visitors per month)
In Vancouver, he worked as an actor, stage manager, publicist and producer.
Newart worked on the sold-out theatrical shows Don Juan in Hell, Oscar Wilde's Salomé, Born Naked: Died Blond, and The X-Mas Files. He also worked on the Jessie Richardson Award-nominated play The Laundry, and the smash hit B-Average: A Musical About Passing, which he accompanied to sold-out crowds off-Broadway in New York City.
He starred as Peter Pan at Performance Works in Vancouver, for a private function with Ellie Harvie (Morticia Addams from TV's 'The New Addams Family') starring as Tinkerbell.
Newart served as a spokesperson for the United Nations (UNDP) during the 1997 APEC (Asia- Pacific Economic Cooperation) meeting in Vancouver. He also publicized the Bravo! Channel's TV movie of the month Motifs and Repetitions.
"France Nuyen taught me to not say 'May I have a minute?' if I really need five minutes," said Newart.
Newart also worked with pop culture figures Angie Bowie, Jerry Mathers ('Leave It To Beaver'), Ned Beatty and Penny Arcade (Andy Warhol's Women In Revolt).
Born in Calgary, Alberta, Canada, Newart attended seven schools by Grade 12.
He performed in school choirs and bands, and his first paying gig as a boy was at about age 12, performing magic shows, complete with the finger-chopper act and Chinese linking rings. At age 14, he recorded an instrumental album of TV and movie theme cover-songs on keyboards for his grandmother, including the Star Wars theme.
His first job after high school was acting in murder mysteries, most notably at the historic Kilmorey Lodge in Canada's Waterton National Park. He became the youngest manager of a Levi's 1850 store at age 20, then worked an Alfred Sung fashion show, leading to a career in the magazine industry.
Newart worked in the advertising and PR departments of CinemaScope and CityScope magazines in Calgary, during which time he met legendary comedienne Phyllis Diller.
"On the set of the movie The Perfect Man, Miss Diller taught me to say '1-2-3' before taking her picture," said Newart.
He moved to Vancouver, British Columbia, to pursue a career in the arts, at age 22.
Shortly after moving to Vancouver in 1993, Curtis was taken under the guidance of old-Hollywood couple Thor Arngrim (pictured far left; Photo credit: C. Newart) and Norma Macmillan (pictured near left). Thor was known for his work as a producer, and one-time personal manager to Liberace and Debbie Reynolds.
Norma was best known as the voice of TV cartoon character Casper the Friendly Ghost. Curtis worked with Thor and Norma, and their children Stefan Arngrim ('Land of the Giants') and Alison Arngrim ('Little House on the Prairie') for many years.
His musical inspiration has come from many of the performers he's seen live in concert, including Cyndi Lauper, Marilyn Manson, Madonna, Elton John, Tina Turner, Dolly Parton, Janet Jackson, Sting, Cher, Motley Crue, Bon Jovi, Sarah McLachlan, Billy Idol, Gwen Stefani, The B-52's, The Cult, Sarah Brightman, Billy Joel, Green Day, Bette Midler, Platinum Blonde and Liza Minelli.
Newart's fundraising efforts have received support from Oprah Winfrey, RuPaul, Carol Burnett, Bob Hope, Elizabeth Taylor and many others.
Newart currently lives in Jamestown, New York, USA, with his husband, photographer Robert Newart, and their dogs Dusty and Coal.